Winter Park
In 1858 David Mizell Jr. and his family had no idea that the eight acres they bought would soon become Winter Park, one of the highest acclaimed "old town cities" in the nation. Winter Park is known for it's splendid parks and lakes, creative boutiques and shops and fine architecture found in so many of the city's mansions and bungalows.
As Winter Park grew and progressed, so did the city's educational aspirations. In 1885, the celebrated and oldest liberal arts college in Florida was founded on the shores of Virginia Lake known as Rollins College, the gemstone of the state not to mention Winter Park.
Securing the architectural charm and arts of the city, the Arts & Culture Committee was formed for the purpose of preserving notable works of art and bringing educational opportunities to the forefront for the benefit of the cities residents and visitors. Winter Park is also home to countless events and affairs such as the annual Arts Festival which boasts an average of 250,000 visitors each year.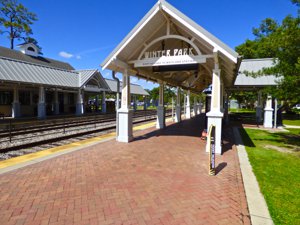 The Sunrail has also become a part of Winter Park's transit system that extends from Sand Lake Road in Orlando to DeBary. It is scheduled to complete four more stations to the south, the Meadow Woods Station, the Tupperware Station, the Kissimmee Station and the Poinciana Station. The Sunrail gives communters an easy way to travel the north south corridor with ease.